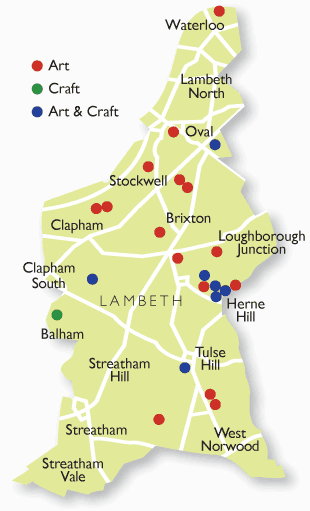 On the first weekend of October artists and crafts people across the borough of Lambeth will be opening their studio and work spaces to the public. Doors will be open from 10am to 6pm, 5th and 6th October and admission will be free.
Dots will be added to our map as artists and makers sign up to this year's event. Lambeth Open showcases the fantastic range of creative talent tucked away in our borough and is a great way to discover the various art spaces too often hidden in your neighbourhoods. Click on a dot to find out more.
Visitors will be able to see inside the artist's studios and exhibition spaces for a unique personal insight into the individual technical processes. Private Views may be held at a number of exhibition spaces, see venues for details.
---
FEATURED ARTIST
KATE CULLING Now living in Worcester, Kate works at home and has a studio in Apple Store Gallery Hereford where she has a solo exhibition from July 3rd for a month. She exhibits regularly in other galleries in Newent and Ledbury. She participates in the Far Open studio festival in the Forest of Dean, and h-Art Herefordshire being a featured artist in publications and websites.
With a love of vibrant colours, Kate uses watercolour inks and liquid acrylics to obtain the luminosity she searches for. Her paintings explore organic shapes, they are bold and contemporary. Kate's inspiration comes from the landscape of the Vercors in France and now the rolling hills of Herefordshire. She is enjoying her journey of trial and error and loves new challenge.
---
FEATURED ARTIST
MARTIN GROVER is a fine artist creating richly layered paintings and screen prints of Brixton, West Norwood and beyond. Other more melancholic and haunting pieces are based on anecdote, poems and songs. His life-long love of vinyl is evident in his celebratory and nostalgic portraits of old singles and album covers. Lamenting a golden age of record buying these meticulous artworks resonate with a halcyon glow.
He displays a wry sense of humour with his Procrastination Club prints and his series of personalised London bus stops. Currently he is documenting the abundance of wild flowers that grow near his studio in East Place.
---
FEATURED ARTIST
JANIE KIDSTON is a visual artist working in various mediums – ceramic, print, drawing and photography. Her work incorporates locally and incidentally found materials and as a means of recording landscape.
The ceramic work incorporates locally and incidentally found clay and raw materials used in the making of ceramics. Collected over time, these are the products of casual observation; walking, traveling, looking, digging and filling in some of the gaps in the back-story of a particular ceramic process. Using these materials has become a means of making a personal record of place and landscape. Her work uses found-clay from sites in London, Peckham, the West Country and Greece.
All pots are made on the pottery wheel as unique pieces. They can either link together or be used separately. Everything is potentially functional and offers a variety of options for either use or decoration – use them as you wish.
---
FEATURED ARTIST
SUSANNA MACINNES is passionate about painting from life. Documenting in paint the people she meets and the places she visits are at the very heart of her work. By traveling with her oil paints and painting in situ, Susanna hopes to "bring home" the honest truths that she discovers, conveying real life situations, as well as taking in the scenes she has witnessed at first hand.
---