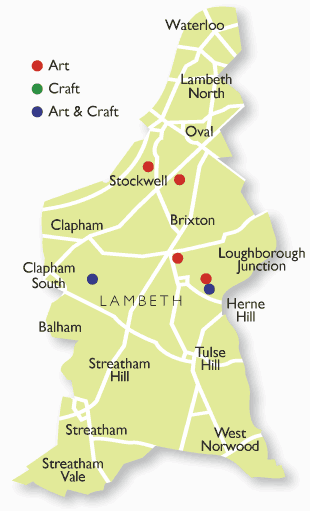 On the first weekend of October artists and crafts people across the borough of Lambeth will be opening their studio and work spaces to the public. Doors will be open from 10am to 6pm, 5th and 6th October and admission will be free.
Dots will be added to our map as artists and makers sign up to this year's event. Lambeth Open showcases the fantastic range of creative talent tucked away in our borough and is a great way to discover the various art spaces too often hidden in your neighbourhoods. Click on a dot to find out more.
Visitors will be able to see inside the artist's studios and exhibition spaces for a unique personal insight into the individual technical processes. Private Views may be held at a number of exhibition spaces, see venues for details.
---
FEATURED ARTIST
RICHARD REES is an artist/architect and a member of the Pastel Society. His work in oil pastels is concerned with patterns of urban form and he has produced a large body of work over the last few years on this theme. These include roofscapes and street views of buildings and cities from all over the world.
He has exhibited at the Royal Academy Summer Exhibition, the Mall Galleries, including with the Pastel Society, NEAC (New English Art Club) and the Society of Marine Artists. He had a successful one man show at Abbott and Holder in 2015. His work is in collection in the USA and the Middle East as well as the UK.
---
FEATURED ARTIST
JOANNA EAVES has lived in Lambeth since the 1980's working as a teacher in both Secondary and Special Education. In her artistic work she has experimented with textiles, jewellery design, drawing and painting. Joanna is a long-time member of London Potters and has been working with clay since childhood.
She has taken part in Open Studios in London and Brighton and exhibited as part of group shows. Her pots are mainly thrown earthenware with painted decoration in oxides and underglaze colours. She is influenced by early Islamic ceramics, animal motifs and designs and particularly likes the shapes and functionality of bowls. Her recent watercolour paintings reflect her love of landscape and trees.
---
FEATURED ARTIST
EMMA ELLIOTT (MRBS) is a British sculptor whose central concerns are the incongruous and hypocritical aspects of humanity and the impermanence and fragility of the natural world. In her work she explores the relationships between the refined and the primitive, the physical and the spiritual, the influences of our collective past on present behavior.
With experimentation and craftsmanship integral to her practice, Emma works in a variety of mediums including stone carving and bronze casting. Emma believes artists have a duty to wrestle with society, its elements of rigidity and puritanism and that they are in a special position to form non verbal connections on important issues.
Recognition of her work includes the Winter Pride 2014 and Passion for Freedom 2015 awards, and her work is held in a number of prestigious public and private collections.
---